Yoga is becoming more mainstream every year as the ancient Indian skill is being adapted to the needs of us westerners. One of Yoga's main teachings is breath control – which makes it a very logical step that divers find a great deal of benefits. Increasing your physical fitness is one way to get more out of every breath, but even fit divers can find themselves breathing too fast or too shallow from the stress of diving and that's where Yoga comes in. Like scuba, yoga places emphasis on proper breathing. Deep, slow yogic breathing teaches us how to calm the mind and breathe more efficiently. Yoga also
strengthens and stretches muscles that are important in diving, looking at the total package, Yoga helps to increase your quality time
under water being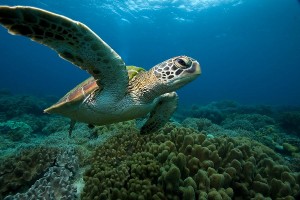 super relaxed when enjoying the marine life on your next dive. If you have never tried Yoga before – this is your chance.

Atmosphere Resort on the south-eastern tip of Negros in the Philippines has embraced yoga and diving. The resort is located in a beautiful tropical garden, directly on the beach opposite Apo Island. It offers guests a magnificent view of the sea and access to some of the Philippines' best dive sites close by and around Apo Island.
There are around 30 dive sites on the Dauin coast, all 2-15 minutes from the resort's dive shop. Highlights are the dive sites around Apo Island with intact coral formations and varied diving in shallow coral gardens and beautifully vegetated walls. Interesting underwater landscapes with sea fans, soft corals and feather stars offer a home for many colourful nudibranchs, moray eels, frog fish, seahorses, clown fish and sea snakes. About 450 different species of hard and soft coral have been found here. Atmosphere travels to Apo almost daily.
In addition to the regular diving schedule, yoga classes are offered
twice daily on the spectacular treetop platform.
However, it does not have to be an addition to your holiday, but the goal of your stay.   This year, the spa manager and yoga teacher Rae has organized a yoga retreat for 6-13 September 2015. Guests can chose a 3 or a 6 day retreat and enjoy yoga & meditation classes, presentations, a complete vegetarian heath menu and many other things. Combine the retreat with a of week diving and have the perfect holiday! Great for  for families and diver and non-diver couples. Contact us for more details!