Fluoro Diving by night – the latest craze in diving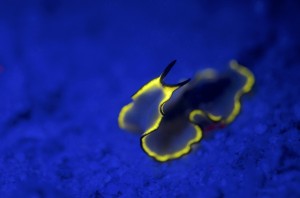 A new form of night
 diving which makes the already special night dives even more memorable. The corals glow in fluorescent colours when illuminated with special light. 
You get an outstanding the underwater light show!  Fluoro Diving transforms the reef – more vibrant colours everywhere and everything you are looking at. 
These awesome photos give a good impression about what to expect. However, it has to be seen to be appreciated fully.
The phenomenon occurs when a blue light

– similar to a UV light – is shone on corals and marine animals, which re-emit fluorescent colours. This causes the corals to glow in the most amazing colors like green, yellow, orange and some even pink or red. Not only do the corals around you radiate a spectrum of the brightest fluorescent colours but so too does the marine life. Moray eels, crabs and tiny shrimps display flashes of a bright fluorescent yellow and scorpion fish luminescence with pink.
Now you can see this phenomenon for yourself at the Great Barrier Reef. Bio Fluorescent Diving is available exclusively on board Taka and Deep Sea Divers Den (using the vessel Ocean Quest currently). Both offer trips out of Cairns and divers can rent special dive lights on board to experience this mind blowing night diving. They are the first liveaboards to offer fluoro diving, also known as glow dives.
Fluoro Diving offers a unique, magical experience on the Great Barrier Reef! On board both vessels you get a special torch and mask filters and the combination  of both creates amazing fluorescent underwater landscapes. Contact us for your reservation!