Tech/Deep Dive Week on Truk Odyssey
Normally these Deep/Technical weeks are booked only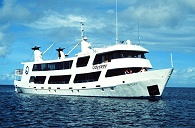 by private group charter. It is a rare occurance that we have one of these special weeks that is open to technical divers that are not part of a group.
Many of the dives during this week will be on a small handful of wrecks that are about 62 m for maximum depth with the deck levels at around 45-50 m. This is similar to the depths of the very popular San Francisco Maru. Among the wrecks that are planned to be dived are:
 San Francisco Maru (45-63m)
Aikoku Maru  (40-64m)
Fujisan Maru  (37-61m)
Nagano Maru (40-65m)
Shotan Maru (40-53m)
Amagisan Maru (31-61m)
This is just some of the sites you can visit. They are not generally part of Truk Odysseys standard itinerary. The final itinerary willnot be determined until all guests are onboard and their preferences are known. So if you are interested in a particular wreck, let us know!
About Truk Odyssey
The Odyssey is a 132-foot liveaboard located Chuuk (Truk) in the Federated States of Micronesia. On board the Odyssey, Truk's finest liveaboard vessel, you'll find amenities consistent with the world's top liveaboards. 12 to maximum 16 divers find ample space on this boat.
The Odyssey boasts nine large, luxurious staterooms all fully carpeted with private air conditioning controls, windows or large portholes, and private toilet, shower and sink all in every stateroom. Six of the staterooms are equipped to easily accommodate two single travellers in twin beds or a couple in a spacious king size bed.
Also available are two staterooms for single travellers only – they have all the features of the double staterooms and easily accommodate the single traveller in a twin bed. The ninth stateroom's sleeping arrangements are a bunk bed with a double bed below and twin above.
During your stay in Truk Lagoon you will find that the majority of your diving will easily be done directly off the Odyssey while they are moored over the dive site.
You'll find that the spacious dive platform (13′ x 6′) has plenty of room for all divers. There are two 7′ ladders to help you out of the water where you can step up to the convenient freshwater shower to rinse off with. Just 4 steps to the dive deck and you'll find the camera rinse tanks (one on either side of the boat). Past the camera rinse tanks are the gear rinse tanks.
There's plenty of space to hang your wetsuit on the bar just in front of the protected fan blowing warm air out of the engine room!
About Tech/Deep week
Truk Odyssey will provide twin tanks with dual valve isolation manifolds. Divers will need to bring the proper gear to work with that tank set-up. However, using double tanks is not required. Divers who prefer a large single tank with a pony bottle may use that set-up instead. Truk Odyssey will also provide 30 cft. pony bottles that are O2 clean. Divers will need to bring their O2 clean regulator to use with deco mixes.
Not all divers will be qualified to join this trip. Only those divers who are trained and experienced with diving those depths should book for this trip.
There is a US$250 per person tech fee for this week which includes the cost of O2. 100% O2 will be surface supplied to the hang bar and pony bottles will be available for other deco mixes. Also, the number of divers will be limited to 12 for this week.
This make the total retail price at US$3,045 per person (~AU$3790), plus the usual US$60 tax/permit fees (~AU$ 75).
Flights
For Australia originating travellers, flights from Cairns to Truk with Continental Micronesia start from AU$ 1050.00 including air taxes and fuel surcharges.
For travellers from Asia, flights on Continental Micronesia from Manila to Truk start at US$ 680 including taxes and surcharges.
For more information contact us at DIVERSION DIVE TRAVEL 1800 607 913 or e-mail:info@diversionOZ.com